There is a growing interest in finding alternative solvents for industrial applications. The initial interest in testing solvent replacements may be based on a variety of factors, including VOC concerns,  safety and compliance initiatives, or green marketing efforts.
We have also found that a specific warning on a product safety sheet will cause companies to seek replacement products with better regulatory profiles, while maintaining reliable performance characteristics.
For example, N-Methyl-2-pyrrolidone (NMP), a highly effective solvent used in industrial processing and cleaning applications, has come under scrutiny due to it's labeling as a reproductive toxin under California Proposition 65 and European Commission directives.
As a result, companies have looked for alternatives with similar performance characteristics to use in their processes.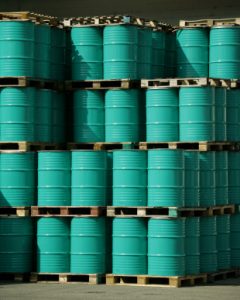 We work with companies to find alternative solutions. The process often begins with identifying potential alternatives, and then submitting an MSDS and/or technical data sheet to the company's safety department for approval.
If the material(s) meets the company's EHS standards, we may begin sampling and testing products until a suitable alternative is found.
This process usually  requires some patience and flexibility, as  a straightforward drop-in replacement is often hard to come by.
However, depending on the end-use application (and whether the material will be used as a stand-alone solvent or in a customized blend), we have seen consistent success with certain materials.
Below is a brief summary of some of the materials we have been working with in assisting our customers.
Dimethyl Esters (DMEs, Dibasic Esters, or DBE):
Highly effective and versatile solvent used in many coatings applications and as a component or stand alone solvent for industrial cleaning. Depending on the type of application (i.e. NMP replacement for coatings removal or micro-emulsion for all purpose cleaners), DME blends can consist of different ratios of adipic, glutaric and succinic esters. We currently provide DMEs in customized blends for several manufacturers and formulators.  Learn more about dimethyl esters.
Propylene Carbonate:
Can be used in formulations to replace solvents such as methylene chloride, acetone, aromatic solvents, and other solvents with higher volatility and more hazardous profiles.
Glycerine Carbonate:
Ideal for cosmetic, personal care, and medicinal applications. Excellent co-solvent for custom-tailored blends.
Methyl Soyate:
Bio-based raw material that can be used on a variety of substrates. This product is considered readily biodegradable and has excellent compatibility for blends with other solvents or in micro-emulsions containing d'Limonene, NMP, mineral spirits, and alcohols.
Tripropylene Glycol (Mono) Methyl Ether (TPM):
Lower volatility, low odor, completely water miscible and versatile co-solvent in coatings and cleaners. Applications in coatings and cleaners, as well as agricultural, electronic, ink, textile and adhesive products.
Ethyl Lactate:
Lactate esters are readily biodegradable and maintain high  solvency and cleaning performance characteristics. Can be used to replace solvents or as co-solvent in custom blends and formulations.
Feel free to contact us for more information on working with alternative solvents.